On June 3rd you can buy all four of these installments in one book...
Fire Rising
This is not a stand alone novel... Before reading Fire Rising... start with
Dark Heat: The Dark Kings Stories
and
Darkest Flame
4.5 Stars!!
ARC's for these novellas were provided by St. Martin's Press
AMAZON
First in an exclusive four-part e-serial by New York Times bestselling author Donna Grant!Sammi's world has been blown to bits—literally. With her pub up in flames, she escapes to Dreagan, the only place she will be safe. Her plan is to recover quickly and leave quietly. What she doesn't count on is meeting the dangerously desirable and enigmatic Tristan…Tristan is instantly drawn to the woman seeking refuge at the Manor. Dazzled by her stunning beauty and intrigued by her silence about her past, Tristan knows he will not be able to let this woman go, no matter what the cost. And when Sammi slips away from Dreagan, Tristan is compelled to follow…in Fire Rising: Part 1.
I was really surprised to see the author move so quickly into the next book in this series... three cheers for author motivation and not making me wait! That pleases my short term memory loss when I have to wait too long for the next book to come out... :)
In this first novella we pick up where we left off in the overall story progression... the Dark Fae have lined up with MI5 and the humans and there is a mastermind above it all that the Kings are trying to locate. The Dark Fae are up to something that will be unpleasant for the human race and they are on the hunt to figure out the dark plans before it's too late.
This story seems to be focusing on the love match between the new Dragon King Tristan and the half-sister of one of his fellow Kings mates. Sammi is being hunted by the Dark Fae and the mob... after being injured and on the run for over a month she reluctantly finds her way to her half sister at Draegan to seek help for her injuries. Tristan immediately feels drawn to Sammi... and I have a feeling there is something special about Sammi that might help him uncover his mysterious awakening as a Dragon King 2 yrs. prior...
I was happy to see Rhi back in the picture... she is a light Fae and I really want to get to know her a little better... I think she is my favorite character in the series. I love a woman who can pack a punch!
Okay, moving on to the second novella... :)
Continue the thrilling adventure with the second installment of Fire Rising by New York Times bestselling author Donna Grant!In Fire Rising: Part 2, it doesn't take long for Sammi's enemies to catch up to her. Running for her life in the mountains, she is rescued from a deadly fall by a powerful, alluring dragon. A dragon who, somehow, looks familiar. When she discovers her rescuer is none other than Tristan, Sammi cannot control her desire…Tristan knows he shouldn't have revealed himself to Sammi, but saving her was more important than anything else. That is, until the mountain reserved for the mates of the Dragon Kings becomes his destination of choice.. Sammi being there feels right, and when his smoldering need for her catches flame, passion consumes them both.
Oh how the mighty kings fall... LOL... the heart wants what the heart wants right?? :)
Tristan finds himself following Sammie to guard her from being taken by the Dark Fae... but, it seems that Sammie is a bit accident proned and Tristan was forced to reveal things he wasn't prepared for her to know. And, being so close to Sammie brings these two together in a very hot and steamy way. Man, I do love these Dragon Kings... :) Male Perfection!
Tristan continues to have flashbacks to his life before he became a Dragon King. And, he is being lured and coerced into having doubts about the true intentions of Con.
I really am hoping for an HEA for Balladyn... please tell me there is hope?? For Rhi's sake anyways...
Now for the third installment:
Excitement and passion ignite in the third serial of Fire Rising by New York Times bestselling author Donna Grant.In Fire Rising: Part 3, Sammi is reeling after discovering that Tristan invaded her mind. Shocked that this is the same man—and dragon—that she trusted her heart and body to, Sammi runs, determined to not look back. But when she stumbles upon a dark secret of Tristan's that shakes her to the very core, she knows she must forgive him if she is to love him…Tristan wasn't expecting to come face-to-face with his past when he found Sammi. And with the Dark Fae closing in, he doesn't have time to do anything other than fight for the one he loves…
This installment ended in such a way that has me sitting on the edge of my seat biting my nails.
I'm so worried about the fate of Sammi and Rhi! I love Rhi... must not let anything bad happen to her... pleeeaaaasssseeeee! Somebody needs to knock Balladyn back to the light where he belongs. :)
It appears that the Dragon Kings are now officially at war with the Dark... and, Tristan will stop at nothing to protect his woman. I love how these Kings love their ladies.
That's all I'm gonna' say... except I will be moving directly into part four now. Must have happy ending... :)
And now for part four... the final installment!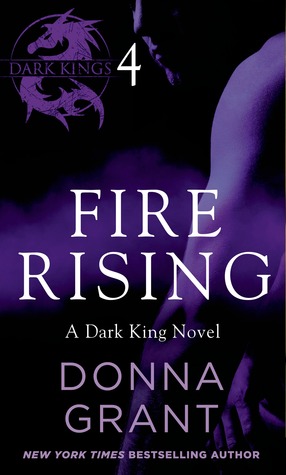 The thrilling conclusion to the stunningly sexy e-series Fire Rising by New York Times bestselling author Donna Grant!When Sammi is captured by the Dark Fae, Tristan's heart is left shattered. Using every ounce of skill, wit, and brute strength, he must get her back, no matter how high the stakes are. Facing the enemy is a daunting task, but Sammi's love is worth every risk…in Fire Rising: Part 4

I'm totally invested in this series and these hot and steamy dragon kings who are taken by surprise by love. :) In this book Tristan meets Sammi and the bond they share helps to re-awaken lost memories of his life before he was born a dragon king. He finally meets his twin brother, a Druid from his previous life. This came in handy in tricking the Dark Fae...
The Dark Fae are still eagerly trying to capture a dragon king and did not hesitate to use Sammi as a tool to capture Tristan. Con and his fellow Dragon Kings have no choice but to step in and go to war with the Dark Fae to prevent them from getting their hands on the secrets that must remain hidden to keep humans safe.
This is not the end of the story... looks like there is more to come. We get closure for Tristan and Sammi but the battle against the Dark Fae continues and we still do not know the fate of Rhi... so, I am assuming that will continue in the next installment. She's my favorite character... so, the next book will be a must read for me!
These are all easy reads with appealing characters and an engaging story... highly recommend to fans of paranormal romance!