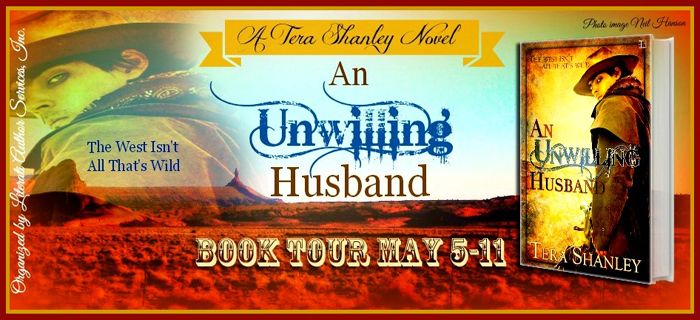 Title: The Unwilling Husband
Author: Tera Shanley
Genre: Historical Western Romance
Release Date: May 5, 2014
Cover Art: Renee Rocco
Publisher: Lyrical Press - A Kensington Imprint
Synopsis
For adventurous Margaret Flemming, arrived from Boston to be with her father, the Old West town of her childhood is a far cry from the drawing rooms and balls of the high society life she's used to. Her fancy gowns and proper manners have no place in the dusty, cruel land inhabited by Indians and rough cowboys.And her fiercely independent streak constantly gets her in trouble. When tragedy strikes, there's only one person she can turn to--her childhood friend, Garret Shaw--but he's disgusted with her Society ways.
With his ranch under attack from the land-grabbing Jennings, the last thing Garret needs is to be saddled with a high-falutin' lady. Even if she is his friend's daughter and her kind ways tug at his hardened heart. Duty to her father forces them to wed, but he knows sure as anything, when the chance comes along, she'll go back to Boston. No matter how much he wants her, loving her is not a risk he can take.
Purchase Links
Excerpt
Garret rode around the side of the house with the confidence of a man who knew his place in the world. He was powerful and alluring, with the masculine fluidity of some deliciously dangerous, half tamed predator. And those brilliant eyes! They could trap a woman's spirit with their intensity.
Roy appeared behind him on the gray, and Maggie made a conscious effort to clack her mouth closed. Cookie waved, then he and Lenny headed down the dirt road. Garret turned to leave but must have changed his mind because he wheeled around to the porch so unexpectedly, his horse rolled its eyes until the whites shone. The disappointment that he would leave so soon was replaced by a fluttering in Maggie's stomach.
"Roy, I don't know who she is, but you and I, of all people, know a lady don't belong out here." Garret kicked the skittish mount under him and gave her a fiery glare, turned his mount and took off after the rest of his party. He left a trail of dust in his wake.
He didn't remember her. Not only that, but he had, in so many words, told her to leave. Why did those words, coming from someone she hadn't seen since childhood, sting so badly? His anger echoed through her bones. Aunt Margaret had said worse on a daily basis, but the power of her insults didn't hold a candle to the careless reprimand that had come from his lips. It was hard to breathe.
As they disappeared, Roy's eyes softened with sympathy. "He's had a hard life, Magpie. After his momma died everything went south and stayed that way."
"In your last letter you said he was still away at school."
"He was, but his pa passed a few months ago. And as mean as that old bastard was, he did do one thing right, and that was Garret Shaw. He came back from Georgetown determined to get the Lazy S back up and runnin' again. His pa nearly laid that ranch in the ground with his drinking, so Garret has his work cut out for him, but if anyone can save that place, it's him." Roy sighed and worried at a rusty porch nail with the toe of his boot. "Maggie, I know you've thought fondly of Garret since you were knee high to a grasshopper, but he's different now. Hard living and too much responsibility have made him a calloused man. A good man, but not the marrying kind, you hear? Best you get him out of your head before you get hurt."
Sound advice, but these things were always easier said.
"I daresay he certainly has changed. And for the worse, if you want my opinion." The dust had settled enough to reveal Garret's tall form in the distance. "Don't worry about me, old chap. I'll not waste my thoughts a minute longer."
About the Author
Tera Shanley writes in sub-genres that stretch from Paranormal Romance, to Historic Western Romance, to Apocalyptic (zombie) Romance. The common theme? She loves love! A self-proclaimed bookworm, she was raised in small town Texas and could often be found decorating a table at the local library. She currently lives in Dallas with her husband and two young children and when she isn't busy running around after her family, she's writing a new story or devouring a good book.Any spare time is dedicated to chocolate licking, rifle slinging, friend hugging, and the great outdoors. For more information about Tera and her work, visit
www.terashanley.com
.
Giveaway
$50.00 Amazon Gift Card
2 E-Books of An Unwilling Husband