Happy Release Day to Heidi McLaughlin and her new book in The Archer Brother Series
CHOOSE ME!
‬‬‬‬‬‬‬‬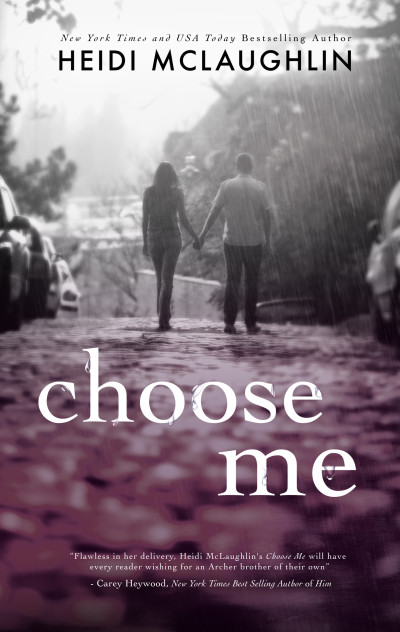 Two brothers.
One woman.
One son.
One choice.
Lives ripped apart, shattered and rebuilt.
Evan and Nate Archer: Brothers, best friends, warriors and now enemies. Both in love with the same woman. Both determined to fight for what they want.
Nate Archer promised to protect Ryley Clarke in the event Evan didn't make it back. It's a promise between brothers since the early days of basic training. Nate never considered that his feelings, long buried since high school, would resurface and grow stronger.
Evan Archer wants answers. He wants someone to pay. After being gone for an unprecedented amount of time, nothing is making sense now that he's home. Most of all, he can't understand how his brother ended up engaged to his fiancée. Evan is determined to uncover the mystery, and win back his family.
The Archers are about to fight dirty.

4.5 rating...
Here with Me
was one of my top reads last year but it left me hanging so I've been waiting impatiently for this second installment! I could not wait to dive in and find out which Archer brother Ryley was going to choose. Or, if she was going to choose either one...
In the first book we met Evan Archer who comes home from an unusually long and secret military mission to find out that everyone had believed he was dead. In his 6 yr absence he missed the birth of his son and his fiancée Ryley was now betrothed to his twin brother Nate.
The emotions were strong in book one as Ryley was battling with the sudden re-emergence of her first love against the man she grew to love when she finally decided to move on with her life. Then there was the mystery behind why this group of soldiers were declared dead only to be brought back to life 6 yrs later. Nate, his twin brother, was MIA in book one because he was away on a top secret mission... but, in book two we finally get his side of the story.
Tension is high and so is mistrust as these two brothers begin the battle for Ryley's heart and search for answers behind the secrecy of the mission that has torn apart their family. Nate was definitely the more compassionate brother while Evan was more pushy, impatient and overbearing. But, they both realized that someone was going to have to make a compromise for the sake of the little boy involved.
At the end of book one I was completely rooting for Evan but very quickly found myself rooting for Nate as the story evolves in this second book. There were some very emotional scenes where Nate was remembering his brother that had me all tied up in knots and questioning Evan's character.
Ryley was very clearly in love with both of these men... and, choosing one or the other was an impossible choice to make. No matter who she picked, she felt like she would be losing something valuable from her life. It was a lose/lose situation and either decision would sever the relationship between two brothers who were once best friends.
Somehow, the author managed to produce an interesting solution to this problem... and, even though I thought it was a little rushed... I liked how everything was resolved by the end.
Most of the big questions get answered in this second installment and we are not left with a huge cliffhanger. So, I'm not entirely certain what to expect with book three. Perhaps a little more closure for the brother that doesn't get chosen?? Yep, that could be good! And, no, I'm not going to tell you which one... so, don't ask! :)
These two books have taken me on a very suspenseful, emotional journey. A very compelling and edgy story that is sure to please fans of romantic suspense.
I'm definitely looking forward to book three. Can't wait to see what else this author has up her sleeve!
ARC was provided by the author for review.

Our kisses turn soft, less eager, but with more passion. Her hands move from my chest and onto my neck as her fingertips play with my earlobes. Horns honk in the background causing her to pull away, but not before I get another taste of her lips. I don't know about her, but I'm having a hard time catching my breath and when she pulls away, the pink flush of her cheeks tells me she felt something too.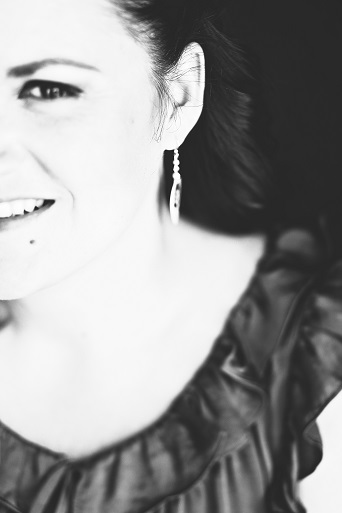 Heidi is a New York Times and USA Today Bestselling author.
Originally from the Pacific Northwest, she now lives in picturesque Vermont, with her husband and two daughters. Also renting space in their home is an over-hyper Beagle/Jack Russell, Buttercup, two Parakeets, Gonzo & Hedwig, and their newest addition of a Highland West/Mini Schnauzer, Jill.
During the day Heidi is behind a desk talking about Land Use. At night, she's writing one of the many stories planned for release or sitting court-side during either daughter's basketball games.
♥ Books by Heidi McLaughlin ♥
Forever My Girl - The Beaumont Series #1
My Unexpected Forever - The Beaumont Series #2
Finding My Forever - The Beaumont Series #3
Finding My Way - The Beaumont Series #4
12 Days of Forever - A Beaumont Series Novella
The Archer Brothers
Here with Me
Choose Me