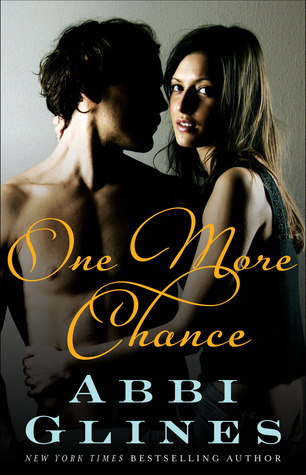 Okay now THIS is how you do NA! It's not just filled with angst and sex, no, it has a plot. It has a sustainable storyline. It has characters that you actually care about. Well done Abbi Glines. It's not easy to do NA, but when it's done right? It's magic.
Harlow had me wrapped up an emotional blanket of sadness, hope, and longing for a miracle that just HAD to happen. Emotional roller-coaster? Hell yes it was.
Harlow took a chance, and when fate stepped in, it was Grant that had to throw chance to the wind and man up.
What a great follow up after Take A Chance!
#1 New York Times bestselling author Abbi Glines continues the unforgettable story of Grant Carter, the irrestible playboy who first captured readers' hearts in Fallen Too Far.
The second installment in a never before published New Adult duet by #1 New York Times bestselling author Abbi Glines, ONE MORE CHANCE

is the follow up to the smash hit TAKE A CHANCE, and concludes the story of Grant Carter, a fan favorite character, and Harlow.
She was it. His one. His only. Then he made the mistake of letting her go.
After fighting his way into Harlow Manning's heart—and revealing a side of himself no one had ever seen before—Grant Carter destroyed his own heart by giving in to his greatest fears and doubts. Months later, he's stuck in a miserable routine. Work relentlessly. Beg his best friend Rush for news about Harlow. Avoid all other friends. Leave nightly voicemails for Harlow, pleading with her to come back to Rosemary Beach. Fall asleep alone. Repeat.
Miles away, on her brother's Texas ranch, Harlow can't bring herself to listen to Grant's voicemails. Though she wants to be with him, and knows he regrets letting her go, she doesn't know if she can trust him. When he discovered the truth behind her sheltered upbringing, it shattered their relationship, but the secret she carries now has far greater consequences. Can she risk giving Grant one more chance, or will the gamble ultimately destroy her?
With her signature passionate characters and sizzling connections, Abbi Glines debuts another steamy, page-turning novel that will leave readers desperate for more.
ABOUT THE AUTHOR:
ABBI GLINES is the New York Times, USA TODAY, and Wall Street Journal bestselling author of the Rosemary Beach, Sea Breeze, Vincent Boys, and Existence series. A devoted booklover, Abbi lives with her family in Alabama. She maintains a Twitter addiction at @AbbiGlines and can also be found on Facebook and at AbbiGlines.com.
Join Abbi Glines and Jamie McGuire in the Fall in Love Tour!
Starts on September 2nd! For more info on the tour stops go to: