Spice Box Set
Genres:
Erotica, BDSM, Contemporary Romance, Paranormal, Satire, Paranormal Romance, Science Fiction Romance, Thriller Romance, Erotic Suspense.
.99 cents pre- order price for a limited time only
Pre-Order Links
Publish Date:
June 29, 2014 on sale for one month only
On sale price $2.99
~Synopsis~
What do your get when your mix sixteen spicy reads by sixteen premiere romance writers in their respective genres? Then add a dash of HOT, a pinch of SINFUL, whisk in some BDSM, fold in some SENSUAL SIN, whip to a SEXY froth, and then let DESIRES rise. The result is SPICE BOX SET….. Whether it's contemporary romance or romantic suspense, alpha vampires, stories with shifters, or BDSM romance—Spice Box offers sixteen erotic romance books with something for everyone. For a limited time this is your chance to enjoy books from today's New York Times, USA Today bestselling authors, and many more.
WHAT'S YOUR SPICE?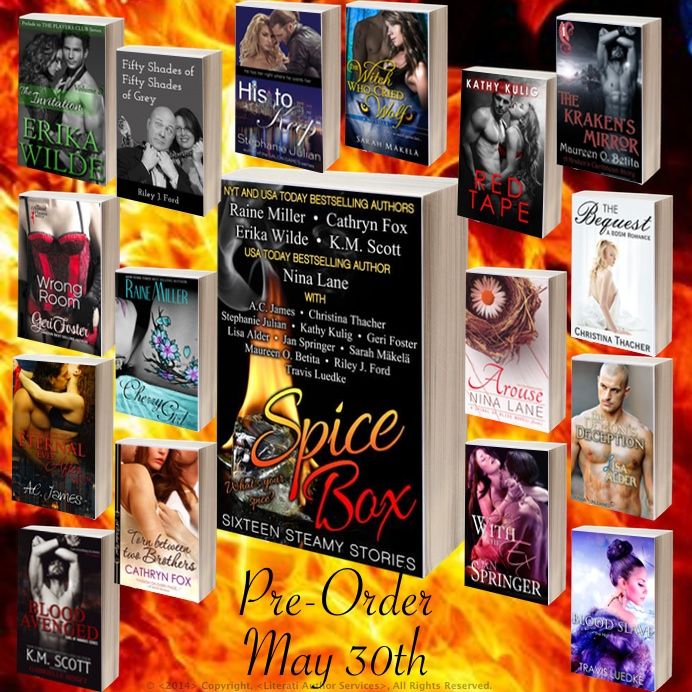 Sample Your Spice.
The epub and the mobi version will need to be downloaded and then uploaded to your device.
Giveaway
Over 50 Prizes
11 $25.00 Gift Cards for Amazon
3 $10.00 Gift Cards for Amazon
1 $20.00 Gift Card for Amazon
2 digital Copies of Nightlife London by
‪
Travis Luedke
‬
10 digital Copies of Cursed Ever After by A.C. James
1 digital bundle of Blackstone 1-3 by Raine Miller
3 digital copies of The Negotiation by Christina Thacher
3 digital copies of Allure by Nina Lane
3 digital copies of Awaken by Nina Lane
3 digital sets of books 2 and 3 from The Kraken's Caribbean series by
‪
Maureen O. Betita
‬
3 digital copies from Kathy Kulig backlist.
3 e-books by
‪
Sarah Mäkelä
‬
3 e-books by ‪Riley J. Ford
‬
"The Key Club Box Set" Volume 1 by Jan Springer
3 Box Sets of Demons Unleashed by Lisa Alder